REST IN PEACE (JO) JAMES O'NEILL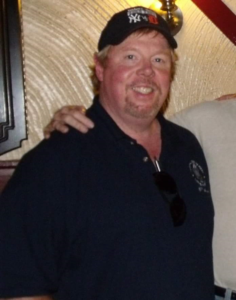 James J. O'Neill, age 59, died suddenly on July 17, 2016. He was the son of the late James A. O'Neill and Eileen O'Neill-Feeney (nee Gregory.)
Jimmy is survived by his wife Kathy (nee Skehill) and his son James F O'Neill. Also survived by Billy, Peach, Mango, and Molly. Jimmy also leaves behind four grieving sisters including Maureen (Walter) Watson, Kathy Weyhrauch, Patty (Mike) McDonald, and Lee (Ralph) Geosits. Seven nieces and nephews mourn his passing including Kristen and Tom Skehill, Lori (Matt) Thornton, Kerri and Tara Watson, Caitlin and Michael McDonald. He also leaves behind a grand niece and nephew, Harper and Jack Thornton.
Finally, Jimmy leaves with us a legacy through the many organizations, business partners, and friendships that he has fostered throughout his life. Those he has left behind will carry on the work that means the most to him.
Jimmy was born and raised in The Bronx. He was a graduate of Visitation School, and Cardinal Hayes High School. He joined the NYPD on November 17, 1979 and rose to the rank of Sergeant Supervisor, Detective Squad, before retiring on November 30, 1999. He was a member of Mayor Rudy Giuliani's protective detail until retiring in 2000. Jimmy lived a life dedicated to service. JO was a founding member of the New York Shields. An organization that coined the motto, "Cops for Cops". Every year at the Marina del Ray, in The Bronx, a service was held to remember those who gave their lives in service to the community. JO was passionate that their names would be remembered and their memories protected and respected. After the devastation of 9/11 Jimmy sought to bring personal remembrance to his adopted home in Carmel, NY.
Jimmy and his band of brothers in Carmel erected a memorial to the members of Putnam County who lost their lives that day. Each year since, he has coordinated the memorial remembrance faithfully attended each year by so many. He renamed the Fraternal Order of Police Lodge 704 to the Stephen P. Driscoll Memorial Lodge.
The beauty of Jimmy's life can be summed up by this: He loved his family beyond measure, gave all to his friends and community, and was the most humble man anyone can ever say they knew.
JO's absence, is a chasm that can never be filled.
THANK YOU.
and as JO would say: "Stay safe"
The FOP Lodge #704 Executive Board